GUINOT Age Summum  
55min
£80
'The Ultimate Anti-Ageing Treatment'
The pinnacle of anti-ageing treatments, Age Summum, uses pure Vitamin C, Hyaluronic Acid and Pro-Collagen to target the signs of ageing. Active ingredients are penetrated into the skin using the exclusive Age Summum anti-ageing facial massage. Fine lines and wrinkles are smoothed and the skins youthful radiance is restored. 

GUINOT Hyrdradermie Facial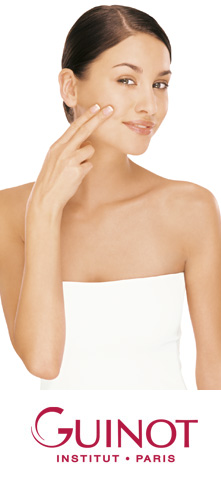 55min 
£75
'The Star Treatment'
Discover visible results from your very first treatment with GUINOT'S exclusive Hyrdadermie Facial. Adapted to your skin type and concerns, this unique innovation enables fast and deep penetration of ionised treatment ingredients, results in exceptional effectivness.
 
Guinot Facial & Back Massage
85min
£95
A truly holistic experience combining a deep cleansing back exfoliation with a powerful back massage using essential oils to soothe, relax and balance. This is followed by an Guinot Intensive Facial tailored to your individual needs and finishes with a therapeutic head massage to help clear the mind, calm the spirit and ease tension.
Guinot Personalised Facial
55/70min
£65/£75
This facial is specifically tailored to you, to include cleansing, exfoliation, steam and extraction where necessary and a treatment specific massage and mask. Finally, Guinot skincare products are chosen for your individual needs to achieve the best results possible.
Guinot Booster Facial 
25min £35
Specifically designed for people on the go, perfect for a lunch-time or early evening 'quick fix', these facials are uniquely designed for maximum results in minimum time. You will leave feeling relaxed and refreshed with a radiant glow. Why not add it on to one of our massages for the total body package.

GUINOT Hydradermie Age Logic
70min
£90
'The Anti-Ageing Star Treatment'
Clinically proven to improve wrinkle depth by up to 49.5%, this specifically designed anti-ageing Hydradermie facial focuses on the eyes, face and neck to target signs of ageing.

GUINOT Hydradermie Lift
45min
£65
'The Immediate Lift Treatment'
Hydradermie Lift brings revolutionary youthfulness and renewed tone by stimulating the muscles and providing a massage that lifts the facial features. In the same way that the body muscles are 'sculpted' at the gym, this treatment adds a spectacular ' lift effect' to your face after just a few sessions.

GUINOT Hydradermie Lift Deluxe
90min
£120
'The Ultimate Lift Treatment'
A combination of the Hydradermie and the Hydradermie Lift will leave your skin looking fresh and radiant. Experience an immediate lifting treatment through the stimulation of muscles, lifting the face, adding firmness and leaving an overall younger look to the face. 

GUINOT Hydradermie Eye Lift
30min
£40
'The Lift Treatment For Eyes'
To add new youth to your eye contour, your beauty therapist has a gentle, effective solution: Hydradermie Lift Yeux. The eye area will be delicately cleansed followed by lymphatic drainage to eliminate puffiness, and signs of fatique, the muscles around the eye will be 'exercised' to tone and add new firmness. To further enhance the results the eye area is sculpted with a lifting massage and relaxed with a soothing mask followed by suitable aftercare products. From the first session small wrinkles are erased, crow's feet are smoothed and eyes look refreshed. 

GUINOT Lift Summum
55min
£80
'The instant Lifting Treatment'
Reduces signs of fatigue and ageing. Focusing on the face, neck and decollete. The unique stimulating massage visibly lifts and firms while the active ingredients collagen XVII helps impove elasticity.